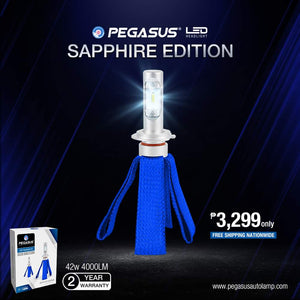 Pegasus LED Sapphire Edition 42W Fanless HB3/9005
Regular price ₱3,299.00 Sale
Clear and focused led lights don't need to be expensive.
Pegasus LED Sapphire Edition
- 42w 4000lm for better energy efficiency.
- Fanless. Noiseless operation and longer lifespan. (2 year warranty)
- Pure copper braid gives better heat conductivity than aluminium.
- Smart curved driver design for better heat dissipation (IP68 waterproof)
- Glare free, clear cut-off line and perfect beam pattern thanks to German Skyline Optical System (GSOS)
Premium LED at a very reasonable price. Get yours now.
Pegasus LED Saphire Edition 42w Fanless
Operating Voltage-10-24V
Operating Life- 50000Hrs
Operating Temp- 40°C - +90°C